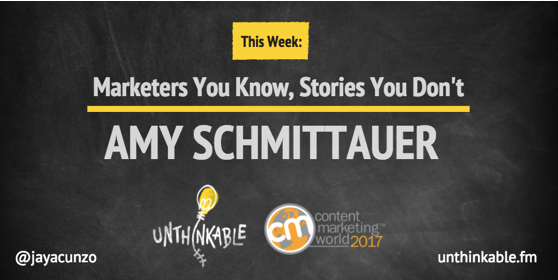 Welcome to episode 6 of the Unthinkable #CMWorld series, where we're partnering with Jay Acunzo, Content Marketing World 2016's highest-rated speaker, and therefore CMWorld 2017's opening keynote. Jay is the creator, host, and mastermind behind the wildly-popular, "This American Life of Marketing", narrative-style podcast, Unthinkable.
Jay continues with his bi-weekly interview with CMWorld speakers you know, by exposing stories we don't yet know. The series is a wrap, ending with a great one: Amy Schmittauer.
On the off chance you don't know Amy, maybe you've heard of the book Vlog Like A Boss. Or maybe you were at Social Media Marketing World 2017 and heard her sing in a Wizard of Oz parody while playing Dorothy.
Jay's interview with Amy was a perfect way to close out our 6-episode series – with a smart, funny, insightful interview touching on just a few parts of an already successful career.
Listen to Jay's interview with Amy: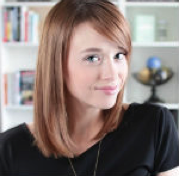 Amy Schmittauer is the new triple threat: Keynote Speaker, Author and YouTuber. Amy writes, hosts and produces Savvy Sexy Social, a video series dedicated to helping you go after the life you want.
A community from nearly every country in the world has inspired the release of her first book: Vlog Like a Boss: How to Kill It Online with Video Blogging. Find her on Twitter @schmittastic.
Are you to yourself you could never video blog? That you're not an extrovert like Amy? That you prefer to be "behind the scenes?" Well, my friend, you need to listen to this interview.
We're thrilled Amy will be joining us this year at Content Marketing World where she'll speak on – you guessed it – video, and how you can create and repurpose video content for more attention. Register today so you can secure a seat in Amy's session!
Channel links: iTunes, SoundCloud, Stitcher, Google Play
Unthinkable is like a travel show, but about marketing. Each week, Jay picks a topic we care about as content marketers and goes exploring to find the deeper meaning behind our work. CMWorld and Jay will be running a new episode in our series every-other-week, but Jay launches new episodes weekly. You can subscribe at unthinkable.fm.
Interested in hearing from Amy and others at Content Marketing World? Great! Now is a great time to register, as early bird rates are in effect until June 2. Plus, with code UNTHINKABLE, you can save an additional $100 off current prices.
The post Unthinkable #CMWorld Series – Episode 6: Amy Schmittauer appeared first on .