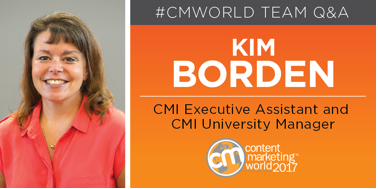 Welcome to our "Meet the CMI Team" series on the Content Marketing World blog! Each week we'll showcase a different CMI team member so you can get a chance to know us before Content Marketing World this September. (You are registered, right?) As the Summer Enrollment period of Content Marketing University comes to a close this Friday, it made sense with us to start our series by introducing you to Kim Borden, our executive assistant who also manages our CMI U program. We hope you enjoy the series!
Explain your role at CMI. What kinds of things do you do on a day-to-day basis?
My primary role is coordinating Content Marketing Institute University. During our quarterly enrollments, I manage CMI University site and interact with our learners. Outside of the enrollment months, I talk with our instructors and work with them to ensure CMI U has topics that resonate with the audience to enhance their learning of content marketing.
When it is Content Marketing World, it is all hands on deck and you can find me sporting my orange Nike shoes and tracking my steps as I assist the event staff team while we create a great event environment for our attendees.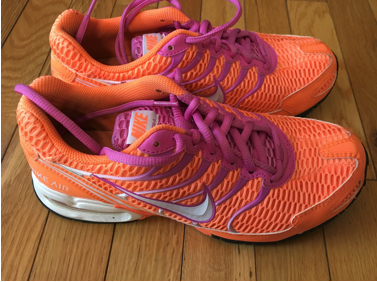 Outside of these primary responsibilities, I have the great pleasure of helping the rest of the CMI staff with any of the projects they are working on. This can range from answering emails from our subscribers on questions or requests, gathering data for the editorial team or helping the awards program.
What makes you the most excited about work each day?
No two days are ever the same! It's the people I have met from all over the world. That is one of the reasons I am excited about this year's Content Marketing World – A World of Stories. Our event hosts attendees from over 70 countries who return "home" each year to catch up and learn from the world's industry leaders.
What is your background, and how did it lead you into content marketing?
I have a Bachelor's of Science in Nursing. But children and a husband with an even crazier work schedule led me to this world. As a nurse, I was always teaching my patients to be advocates for their own health and how to effectively "tell" their story. Now, I work with a team that is leading the push for brands and companies to do the same thing.
What kind of people do you want to connect with more – whether at Content Marketing World or at UBM?
Oh, I have a few. I would love to connect with medical or non-profits and education professional. How are they telling their stories and reaching their audience? Plus, I enjoy catching up with our friends outside of the United States who I see only at the event.
If you had a personal mission statement, what would it be?
Live life with a purpose! Each day we are given 24 hours to make a difference, whether that is within your personal, professional, or your "ripple".
What's the last good book you've read?
Unfortunately, I usually don't get to read for pleasure until we take our beach vacation. I will take recommendations!
During the rest of the year – I end up reading bits & pieces of books the kids are reading in school – when they do not understand a chapter. This year I ended up reading both The Great Gatsby by F. Scott Fitzgerald and The Book Thief by Markus Zusak. Both were great books.
What's something you'll always find in your refrigerator or pantry?
The question should be, "Is there anything you don't have in your fridge or pantry?" With 3 teenagers who all LOVE to eat and cook their own "specialties", my fridge is stocked with fresh fruits and veggies. The pantry has any necessary staple needed for just about any recipe you want to make.
What's something else you'd like our community to know about you?
Cleveland and the surrounding communities are AMAZING. While recently, Cleveland has been in the spotlight with the Cavs, Indians, and of course Content Marketing World, it is a fabulous area that can take ALL summer to enjoy. This area has something for everyone! One of our favorite things to do is to take our bikes on the Cuyahoga Valley National Park train. The train, for a small fee, will drop you off at one of several stops from here to Akron and you can ride your bike along the towpath through the park. No long bike ride through the park is complete without ice cream. Take your pick – Homemade, custard, gelato, yogurt or soft serve! If biking is not your style, simple search Cleveland and …… You will find something to do here.
Thank you, Kim! We couldn't imagine our team without you.
To meet Kim and the rest of the CMI team, come join us in person at Content Marketing World, happening September 5-8, 2017 in Cleveland. Join us! Code TEAM100 saves $100, so register today!
The post Meet the CMI & #CMWorld Team: Kim Borden appeared first on .