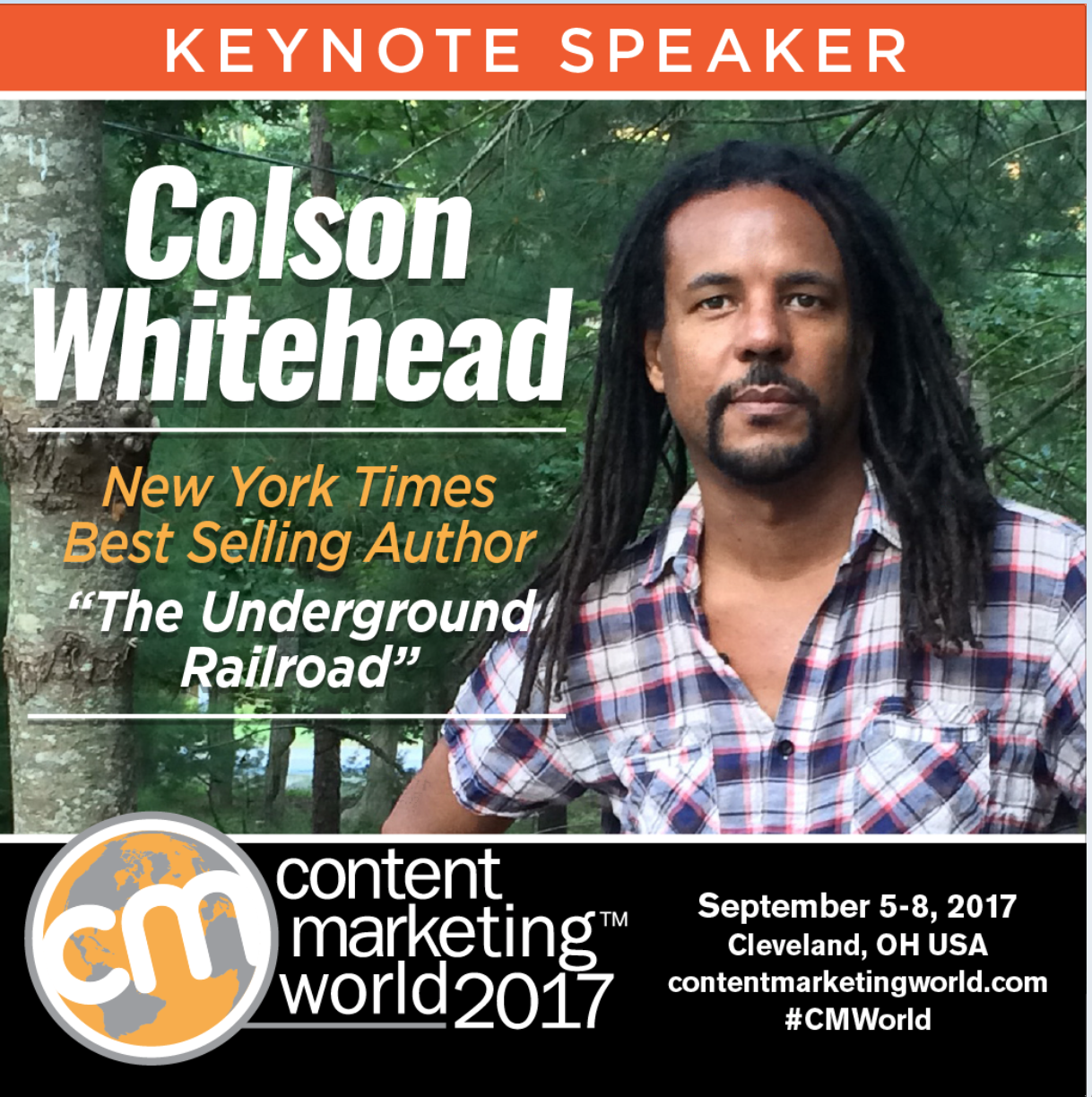 After two days of learning at Content Marketing World 2017, we're starting Thursday, September 7 with Colson Whitehead, bestselling author and Pulitzer Prize winner.
Many of us know Colson from his most recent novel, The Underground Railroad, which in a whirlwind turn of events, pushed Whitehead even more into the spotlight with his novel. Published a month early because Oprah Winfrey selected The Underground Railroad for Oprah's Book Club, increasing the first print run from 75,000 copies to 200,000 copies.

Says Whitehead in an interview with Newsweek, "When I got the call [about Oprah's Book Club], I let out a stream of loud, joyful expletives—which was awkward because my plane had just landed and everyone looked at me like I was crazy. Oprah has introduced so many wonderful books to people, from The Song of Solomon to The Sound and the Fury, that I'm honored and grateful that The Underground Railroad is joining such great company. You write the best book you can and hope it finds its way. This is the best kind of send-off."
Though many in the literary community knew Whitehead because of his 1999 novel, The Intuitionist, the publishing of The Underground Railroad helped Whitehead become a household name. Looking back on his stellar career, Colson Whitehead is the #1 New York Times bestselling author of The Underground Railroad (winner of the National Book Award and Pulitzer Prize), The Noble Hustle, Zone One, Sag Harbor, The Intuitionist, John Henry Days, Apex Hides the Hurt, and one collection of essays, The Colossus of New York.
Whitehead's reviews, essays, and fiction have appeared in a number of publications, such as the New York Times, The New Yorker, New York Magazine, Harper's and Granta. He has received a MacArthur Fellowship, A Guggenheim Fellowship, a Whiting Writers Award, the Dos Passos Prize, a fellowship at the Cullman Center for Scholars and Writers, and was a finalist for the Pulitzer Prize for John Henry Days.
He has taught at the University of Houston, Columbia University, Brooklyn College, Hunter College, New York University, Princeton University, Wesleyan University, and has been a Writer-in-Residence at Vassar College, the University of Richmond, and the University of Wyoming.
So what brings him to Content Marketing World 2017? "Our Content Marketing World community is built on building relationships, using our creativity to connect with our audience, and finding our tilt or niche," says Stephanie Stahl, general manager of the Content Marketing Institute. "Whitehead's latest novel achieves all of this, and I'm thrilled he will share his journey with our CMWorld attendees.
There is still time to register for Content Marketing World to hear Colson Whitehead and 200+ other speakers. If you hurry, you can take advantage of our special summer pricing, available until July 21. Combine that with the code BLOG100 and save an additional $100! Register today.
The post Bestselling author of The Underground Railroad kicks off CMWorld's Thursday main event appeared first on .