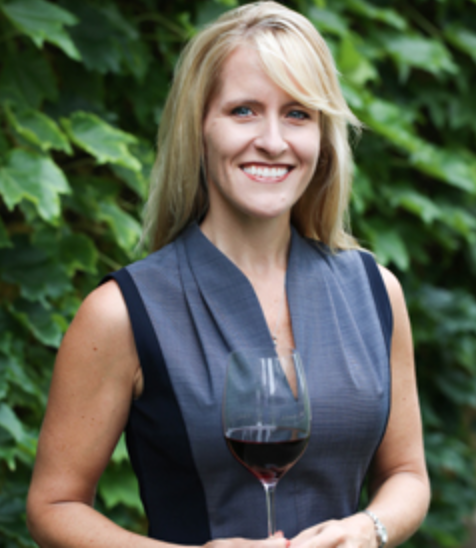 There are Star Wars fans, then there are those who are willing to sit for five hours to be body-painted like Darth Talon for a Halloween costume. Lisa Mattson is the latter. She's also Director of Marketing and Communications at Jordan Winery and will be attending – and speaking at – Content Marketing World for the first time this fall.
She's currently working on segmenting the firm's blog and launching a new food-and-wine-based blog at winecountrytable.com. Here's more of her fascinating story:
Name: Lisa Mattson
Title: Director of Marketing and Communications
Company: Jordan Vineyard and Winery
What is your main reason for attending, and how many years will this make for you?
This will be my first CMWorld. I read Epic Content Marketing a few years ago and started changing the way we blog. After attending a Content Marketing Institute workshop with Joe Pulizzi and Robert Rose last year, I decided that I wanted to dig deeper and experience CMWorld.
How has your career path led you to content marketing?
I started in wine journalism before transitioning into winery public relations. Once self-publishing and social media began to explode in 2007-2008, I decided that I needed to learn digital media skills to stay relevant in my field. Writing and managing a blog for a hospitality-focused winery, as well as shooting DSLR video and photo over seven years, progressed organically from a behind-the-scenes diary to content marketing.
If you had the opportunity for a do-over, what career would you be in today?
Same industry, same career. I'm lucky to have worked in the wine business since before college graduation. The only thing I would do over is spend less time working at wine companies with big portfolios.
What is your biggest content marketing challenge?
Staying top-of-mind with customers in a very crowded market when Jordan only makes two wines and has been making them in our French-inspired style for four decades.
What is your favorite book and why?
Content Inc. I think I bookmarked every other page on my Kindle.
If you could meet one person at CMWorld 2017, who would it be?
Mark Hamill. The first Halloween costume I remember as a kid was Princess Leia. My brother was Luke Skywalker. I also own 14 Star Wars tiki mugs. I've made two Star Wars spoof videos at Jordan Winery and spent five hours being body-painted for a Darth Talon costume for the Jordan Halloween party. Should I go on?
Editor's note: Mark Hamill was our closing keynote speaker at CMWorld 2016. Check out a few-minute clip of his chat with Joe Pulizzi:

Who is someone you'd encourage to come to CMWorld 2017?
Marketing and public relations managers for celebrity chefs or corporate restaurants/independent chains.
Are you working on any fun projects you'd like to share with our community?
After consulting with Robert Rose of Content Marketing Institute in January, we decided to segment our blog content and launch a second blog focused on our food, wine and travel tips. It's called Wine Country Table: www.winecountrytable.com.
Thanks, Lisa, we appreciate you sharing your story with our community and are excited to welcome you to Cleveland and CMWorld for the first time this fall!
Meet Lisa and 4,000 other marketers at Content Marketing World 2017, happening September 5-8, 2017 in Cleveland. If you haven't registered, there is still time. Our summer sale pricing is in effect until July 21st. And, as an added bonus, code BLOG100 saves $100 off main event and all-access pricing, so register today! See you in September!
The post Getting to know a #CMWorld 2017 attendee: Lisa Mattson appeared first on .