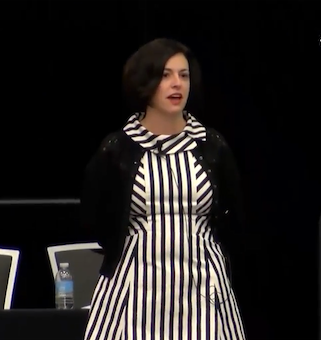 Monster.com has been around since 1994, when it became just the 454th registered URL on the web, according to Forbes. As managing editor of monster.com, Margaret Magnarelli would tell you that can be a good thing and a bad thing.
Because of its longevity online, the company has a lot of great search equity, she says. But a lot of that content is out-of-date and not in Monster's current voice.
That's when she saw an opportunity.
Based on her earlier work at Money magazine, she developed a strategy to diversify the types of content and distribution channels that could help Monster modernize. She tells the story in this video from her 2016 Content Marketing World presentation:
Her strategy of How, Now and Wow! is a great idea that's profound in its simplicity. Let's break it down:
How?
A message that answers this question is great for search engine optimization (SEO)
How-type content also performs well in email, delivering great click-through rates
Social media, paid distribution and syndication also work well with How content
Find your 'How' by understanding your audience's needs and wants
Now.
This is about making sure your content is relevant and current, talking about what's happening, well, Now
This kind of content also allows you to infuse your brand's viewpoint on current events
And, finally, Now is all about using your data to help your audience. For instance, Monster creates a Monster 100 list of the top companies hiring at any time. Useful and interesting.
Wow!
This content is created primarily for social engagement
It's made up of things people will appreciate, like GIF-heavy quizzes that are just designed to be fun
A great example is the 'How awkward are you in conference calls' quiz
While this content strategy may sound simple — and it is — Margaret reminds us that we are all in the market for eyeballs. Whether your company sells job postings or postcards, we all need to engage an audience with our content. Her How, Now and Wow! strategy is designed to do just that and can be applied to almost any industry.
Oh, and did I mention this strategy won the Content Marketing Award for Best Content Marketing Program in 2016? You might want to take a look at it, pal.
If you want to learn more about the critical topics all marketers need to know when adding content marketing to the mix, such as an easy-to-apply content strategy, learn from the experts like Margaret. Come to Content Marketing World 2017, September 5-8 in Cleveland. Code BLOG100 saves $100! Register today!
The post Looking for a content strategy, pal? Try How, Now, Wow! appeared first on .