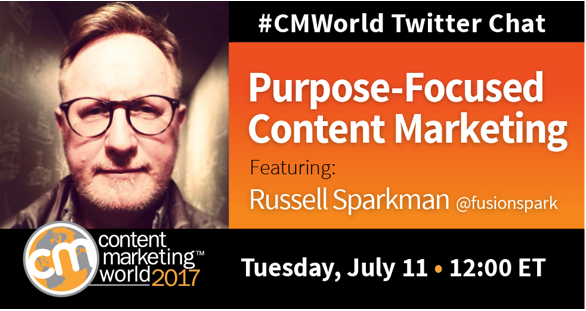 Empathy is a powerful tool for tapping into meaningful content that matters to our audiences. In a recent #CMWorld Twitter chat, Russell Sparkman, CEO of FusionSpark, explained why having a purpose provides a foundation for good content (and great storytelling).
Humanize it
The challenge for brands is to ensure they have a "why" that their audience feels is important. A way to combat this is to bring the human experience into focus. Content then becomes less about the product. It becomes more about creating a content marketing plan that will further the brand's purpose and growing a stronger community.
A3: Being a purpose-driven brand makes it easier to attract+connect with a community of people that are your ideal customers. #CMworld https://t.co/x2CwW033Vm

— Erika Heald (@SFerika) July 11, 2017
A3. It gives people a reason to like (and even love) your brand! #CmWorld

— Jansen Communication (@JansenComm) July 11, 2017
A3: When people feel there is a purpose, their trust in a brand grows#CMWorld pic.twitter.com/T18TJ6onIp

— @AndreaTorti90 (@andreatorti90) July 11, 2017
A3.

It contextualizes
the value your brand has
to offer.

Connects your brand
to larger issues, movements, needs, etc. #cmworld

— Gabriela Cardoza (@CardozaGab) July 11, 2017

Many challenges ahead
While most brands recognize the importance of having a purpose, they aren't always accustomed to creating content around their efforts. They are faced with many challenges and objections.
A7: "That won't work here." "We tried that once." "We've gotta hit our numbers!" "We've got all these regulations." et al. #CMWorld

— Jeremy Jones ️ (@jerejone) July 11, 2017
A7 The bottom line holds people back. A desire for immediate results. "Purpose" is playing a long game. #cmworld

— Martin Lieberman (@martinlieberman) July 11, 2017
A7: Mistaken belief that the #purpose and the mktg are separate entities, when in fact they must be intertwined. #CMWorld

— Rallio (@rallioHQ) July 11, 2017
What tactics are you using to create purpose-focused content marketing? Let us know in the comments below. And for more insights, check out our Storify recap.
Want to learn more about #ContentThatMatters? Register for Content Marketing World and Sparkman's session and/or his Non-Profit Industrial Lab. Code SM100 saves you $100 at checkout!
The post Purpose-Focused Content Marketing: A #CMWorld Chat with Russell Sparkman appeared first on .